Fulham will be looking to avenge last week's defeat against Palace, in our second consecutive London derby against a settled Spurs side. Will our return to Wembley be another happy one? Our man George Singer takes a look!
Like London buses, Fulham have waited over 40 years for a Wembley appearance, only for two to come at once. After a disappointing return to Premier League football last week, going down 2-0 at the Cottage to Crystal Palace, we have a chance to record a second victory at the home of English football in 2018. Can we upset the odds and earn a result against title chasing Spurs?
Recent meetings
Dec 2012: Fulham 0 – 3 Spurs
Mar 2013: Spurs 0 – 1 Fulham
Dec 2013: Fulham 1 – 2 Spurs
Apr 2014: Spurs 3 – 1 Fulham
Feb 2017: Fulham 0 – 3 Spurs (FA Cup)
Last Time Out
Back in the 5th round of the 2017 FA cup, for the second consecutive match we were drawn against a Premier League side in Spurs. After comfortably dismantling Hull City side the round before, optimism was rife as the BBC TV cameras came to the Cottage. However, Harry Kane had other ideas and his masterclass emphatically dumped us out of the cup.
In truth, the Fulham side looked easily second best to a classy Spurs side that day. Our game plan seemed to centre around long balls to Neeskens Kebano, who was always going to struggle against a physical centre back pairing of Vertonghen and Alderweireld.
Our defence was unable to cope with Spurs' attackers, and in particular Christian Eriksen enjoyed the freedom allowed to him by a defensively poor Scott Malone performance. Time and time again he put crosses into the box and had a hand in all of Kane's goals on the day.
Likely Spurs lineup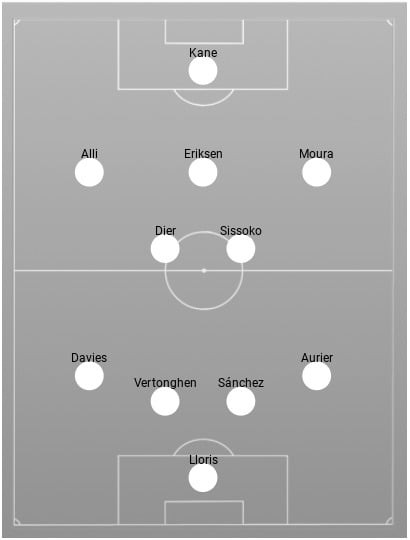 Spurs are most likely to line up in their regular 4-2-3-1 formation, which they heavily favoured at Wembley last year. Alli, Eriksen and Moura all act in free attacking roles, continually interchanging and moving defenders around. All of them have decent pace, and their clever movement brings gaps for Kane to exploit.
Expect Dier to act as the holding midfielder, with Moussa Sissoko contributing to the attack by providing overlaps on the right hand side of the field. Fullbacks Davies, and particularly Aurier, will bomb forward as they look to swamp opposition defences with attacking players. This tactic earned Spurs the 3rd most shots per game last year, so keeping all the players quiet will be a real challenge.
One to Watch
The obvious choice for this should be Russia's World Cup golden boot winner Harry Kane. However, that's too obvious – plus we all know he never scores in August. Right?!
Therefore, the one I'll be watching closely at Wembley is the Dane Christian Eriksen.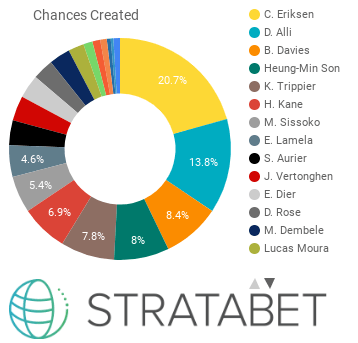 The attacking midfielder is the key creator in the team – creating roughly a fifth of Spurs chances. His movement and accuracy with passes allow his teammates to thrive, and has been pulling the strings ever since his move from Ajax 5 years ago. Whilst normally stationed in the centre of the pitch, his attacking role is still very varied; the below graph showing how he creates chances all over the pitch.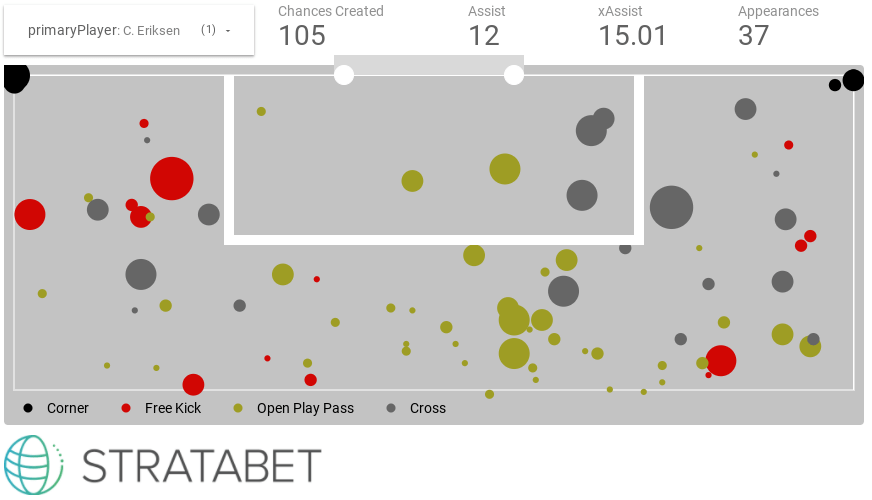 We also need to look out for his wicked delivery at set pieces. Fulham's inability to defend, and score, from set pieces has always frustrated me – and this is something that Pochettino will no doubt be looking to target. Eriksen created 5 goals from set pieces last season, the second most in the league, and already has 1 to his name this season.
Notes for Slav
Since we earned promotion, questions have lingered about how we will handle the step up in opposition. Should we continue to have blind faith in our attacking, possession based style against the big boys? Or will we finally switch to a more pragmatic, defensive, plan B?
My main concern with continuing with our attacking game plan is how we plan to stifle Spurs' attacking threat. We saw two years ago that McDonald, StefJo and Cairney struggled to control Spurs – and unless we make some changes this game will be no different. Last week Seri proved that he's not afraid to put a defensive shift in, however this is a game where I really think Anguissa would add extra protection for our defence compared to McDonald.
No doubt our central midfield choices will be a topic for future pods, articles, and perhaps our upcoming 'Stats Show' programmes, however this seems like the perfect opportunity to test out a more resolute and limited midfield in one of the toughest matches of the season.
If Slav is able to add some more protection to our defence, without compromising our attacking threat, there's no reason we can't make this a happy return to Wembley.
COYW!!
This article was written with the aid of StrataData, which is property of Stratagem Technologies. StrataData powers the StrataBet Sports Trading Platform, in addition to StrataBet Premium Recommendations.