Continuing a trend of strong transfer windows, the latest addition to the Whites' side is the World Cup winner Andre Schurrle. Following a bright start to his career, including delivering the assist for Gotze's World Cup winning goal in 2016, the wideman has struggled of late in Germany. Will his return to West London, donning the white of Fulham rather than the blue of Chelsea, be a successful one? Fulhamish's resident statto George Singer takes a look.
Where could he fit into the side?
After plenty of success in the Championship, all signs are pointing to Slavisa keeping faith with his attractive brand of football in the Premier League. In interviews, he's mentioned he wants to keep playing with the same passing style, and if pre-season is a good predictor we're likely to keep playing in our now-standard 4-3-3.
Therefore, Schurrle looks like a nice fit for one of the wide forward positions. No player in the side made a serious claim to the right wing spot last year, so is this where Schurrle is going to play? If the rest of his career is anything to go by, perhaps not.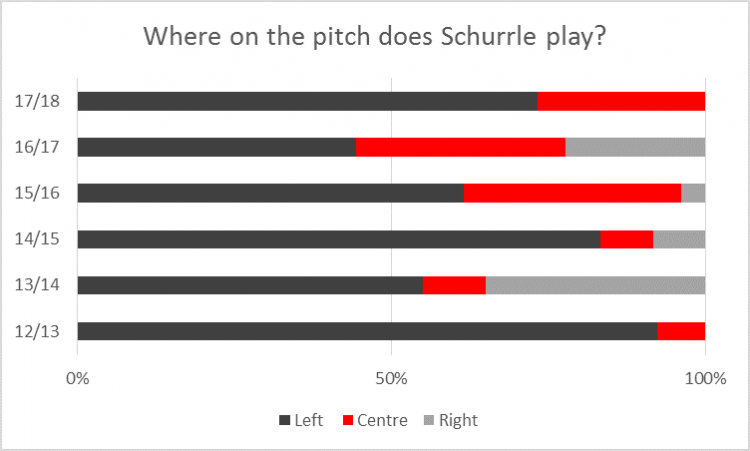 Over the years, Schurrle has been known a player that can be tactically flexible – and able to play all over the pitch. However, in reality, he clearly favours the left flank. Some managers have moved him around more than others, as he's adapted to different styles of play, however it's clear that left wing is his natural home.
So will he continue here for Fulham? That will depend on the kind of system that Slav will want to play. With Schurrle being right footed, and Sess left footed, we could see a return to inverted wingers. Neither player is a classic touchline-hugging winger, so it may make sense for Sess to move onto the right to make room for Andre.
In fact, Sess has been moving across to the right in pre-season friendlies, so perhaps this is Slav's way of getting the youngster used to a new position.
However, the inverted wingers would leave us relying on our full-backs to create width. With Freddo and Targett gone, we lack a roaming wingback in our roster. With the window closing soon, rumours of various left backs have been spreading, and it will be interesting to see if we bring in a pacey overlapping wingback who could link up with Schurrle.
What kind of winger is Schurrle?
So, assuming Schurrle keeps his position on the left of the pitch, how will he contribute to Fulham attacks?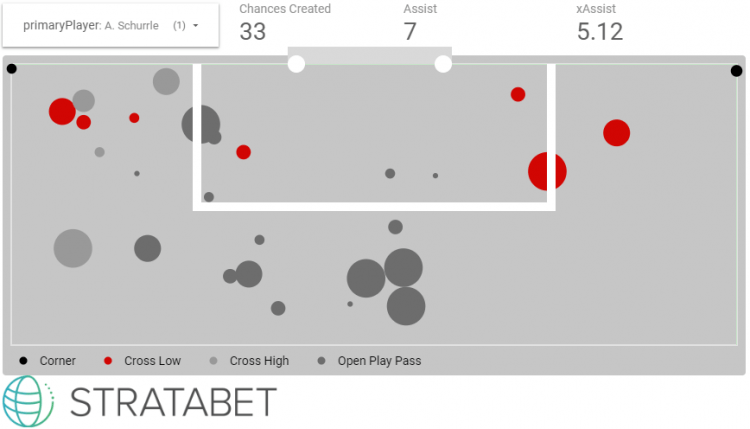 As mentioned above – he's not a classic touch-line hugging winger. He's the kind of player that loves to cut inside, and influence the game from the centre of the pitch. I'd expect him link up with our central playmakers Cairney and Seri, and stretch defences with his direct running.
He's clearly not being brought in to purely service a target man like Mitrovic. I'd expect it would be new roaming fullbacks who will be the ones to put crosses into the box, rather than Schurrle. Instead, Andre is the kind of player who is going to give us a brand new dynamic – he will run directly at players, and cut inside to shoot on his right foot.
Whilst Mitrovic provided the difference to drive us to promotion, with him on the pitch our attack did come a little one-dimensional. Against tougher defences we need new attacking options – this is exactly what Schurrle will provide.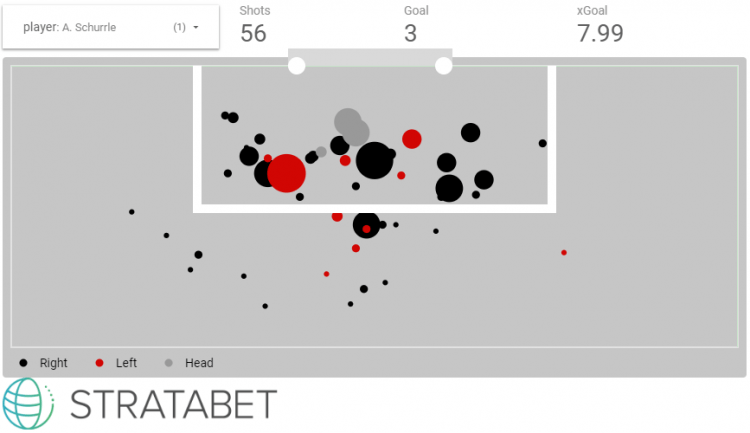 Summary
Whilst the last couple of years at Dortmund have not been the most fruitful of his career, partly due to competing for position with world class players like Ousmane Dembele and Marco Reus, he's clearly an upgrade on our current wide options. He deserved more than scoring only 3 goals over the last 2 seasons, according to expected goals, perhaps a reason for him being available on such a great deal. In the past, when playing regularly at Chelsea and Wolfsburg, he's scored 10+ goals a season, and I see no reason why he couldn't emulate this at the Cottage this season.
A 2 year loan for a 27 year old of his quality is an incredible deal – and one Tony & co should be very proud of. It's low risk (if we do get relegated, we have a quick way out of his contract), and we get a player at his peak who's determined to turn his career around. All signs are pointing to an exciting first year back in the Premier League!
This article was written with the aid of StrataData, which is property of Stratagem Technologies. StrataData powers the StrataBet Sports Trading Platform, in addition to StrataBet Premium Recommendations.