After weeks of patiently waiting, the Whites finally announced their first summer signing ahead of their return to the Premier League. Beating a host of bigger clubs to his signature, Fulham convinced Jean Michael Seri to swap Nice for South West London. The club record deal has turned a lot of heads, with journalists calling the deal a major coup for the Whites. So what can we expect to see from the midfielder? Fulhamish resident stattos George and Nick take a look.
Attacking Creativity
So, what does Seri bring to Fulham?
Well, for starters, his passing ability is quite something to behold. He attempted and completed the most passes in Ligue 1 last year, a clear sign of how Lucien Favre trusted Seri to be the knot that tied Nice together. With Nice having a 56.3% and 57% possession rate respectively over the past two seasons, Seri already has a vast amount of experience playing in a possession dominating system, which Fulham will certainly hope to continue playing after their promotion from the Championship. Furthermore, Seri also attempted the third most through balls in Ligue 1 over the past two seasons (without counting PSG players), only behind Dmitri Payet and Florian Thauvin of Marseille respectively.

In an attacking Nice team, Seri is the primary creative outlet. He creates more chances that any other player, and has more assists too. In particular, he struck up a strong connection with Balotelli and Alassane Plea – which will hopefully translate into a partnership with whoever ends up being in Fulham's front line next season.
Seri's range of passing is perfectly illustrated on show above. His ability to find full backs and wingers running down the touchline with ease rivals that of Cairney's comfortably. Premier League defenders are already going to have a headache on how they are going to deal with two central midfielders who love having the ball and constantly want to keep the attacking play ticking.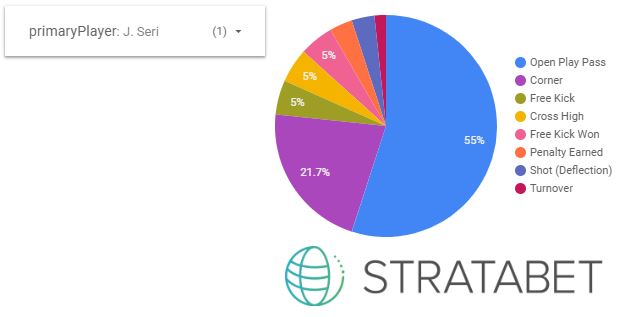 With over half of his chances created through open play balls, Seri is the type of player who should thrive in Fulham's system. Often found lurking outside the box, sitting comfortably in pockets of space, continually feeding his attacking runners with throughballs into the box. In particular, I look forward to him combining with Sessegnon. If Seri can quickly build up an understanding with the youngster, and can feed Sess's dangerous runs, then they could turn into a dangerous partnership.
In addition to this, I'm hoping that Seri will be able to add some much needed quality to Fulham's set piece game. As England showed this summer, strong set piece planning is worth it's weight in gold – something we haven't cashed in on in years. Fulham aren't short of players who can head the ball into the net, but we've been lacking a player who can consistently put the ball into dangerous areas to be put away.
Additionally, Seri's ability to play between the lines and move into space when presented to him is going to be a huge boon for Fulham. Stefan Johansen was excellent at doing this in his first season at Fulham but dropped off in the second largely due to a mix of fatigue and being tasked with much more of a creative burden when Cairney was out injured during the first half of the 17/18 season. We can certainly expect to see more of these lung bursting runs into the box from Seri, as seen below.
Seri is able to drag both central midfielders toward him before taking them out of play with a lovely flick to his striker. With one of the centre backs being drawn towards the striker, he is able to move into the now unoccupied space between the left centre back and right back before showing off that change of pace to make himself open to receive the ball from Eysseric (the left winger) and calmly slot the ball past the keeper.
Defensive Contribution
As much as we'd love to continually dominate possession, as we have done over the last 2 seasons, we need to be realistic. We're going to have a lot less of the ball this year, and the quality of midfields we face will be exponentially stronger. Therefore, we really need our central midfield to pull their weight in defense.
The above shows how Seri compares to Fulham's well-established midfield 3. Compared to Cairney and StefJo, who's position he is more likely to take, he performs well in some departments but not others. High interceptions suggests he knows where to position himself when the opposition have the ball, and will be a great trigger to start counter attacks. However, he seems to tackle less than our existing midfield – which is a slight concern.
When in France, Seri played in a midfield 3 in a team who dominated possession. With our system being very similar, this should help with his transition into our team. However, if he is going to take one of the positions, i'd like to seem him use his engine and increase his defensive output across the pitch.
Summary
So, it's likely then that Seri will fill Johansen's role as the box-to-box midfielder, albeit with a bit more attacking freedom. With Ryan Sessegnon, Aleksandar Mitrovic (potentially) and ideally a new right winger ahead of him, Seri is going to have ample targets to create chances for as well have shooting opportunities created for him.
Although Seri doesn't quite have the same defensive workrate as a Johansen provides, the trade off for his ball playing ability, movement and long range shooting is a tradeoff that will comfortably pay off for Fulham if he comes close to hitting the highs that he reached in 2016/17 under Lucien Favre at Nice.
After being linked to some huge clubs in recent years, and being on the verge of signing with Barca last year, it's a real privilege to be able to see Seri in a white shirt. Still being in his mid 20s, he has his peak years in front of him. I'm hopeful that he can fulfil a role similar to Dembele the first: playing a key role in our team for a couple of years and then going on to a bigger club, giving us a healthy profit. Whilst our expectations of him may be higher, being comfortably our record signing, I'm hopeful he'll prove to be the key to a comfortable first year back in the Premier League.
This article was written with the aid of StrataData, which is property of Stratagem Technologies. StrataData powers the StrataBet Sports Trading Platform, in addition to StrataBet Premium Recommendations.