The day is upon us. Wembley provides Fulham with another shot at glory.
Back in 1975, West Ham proved just too strong for the Whites. Now another claret and blue obstacle stands in our way.
Fulham fans never expect, but always hope. Nevertheless, the return to the national stadium has been long overdue.
"You look at pictures of during the Cup run when you've got the team bus going around and you suddenly realise how distant a time 43 years ago was.
"Between then and now, I've gone to work, retired It's a big spread of time," reminisces Glen, who was 17 at the time.
In the pre-internet age, programme tokens were the way of getting your hands on a golden ticket. Stephen Date was one of the lucky winners and was driven to Craven Cottage by a West Ham-supporting cab driver to exchange them at the ticket office.
"He drove me all the way from West Ham to Fulham that morning. No fare," he recalls.
"We pulled up outside Stevenage Road and got in the queue there. The funny thing I remember is that we were queueing up and half of us are wearing black-and-white scarves. It was a Sunday morning."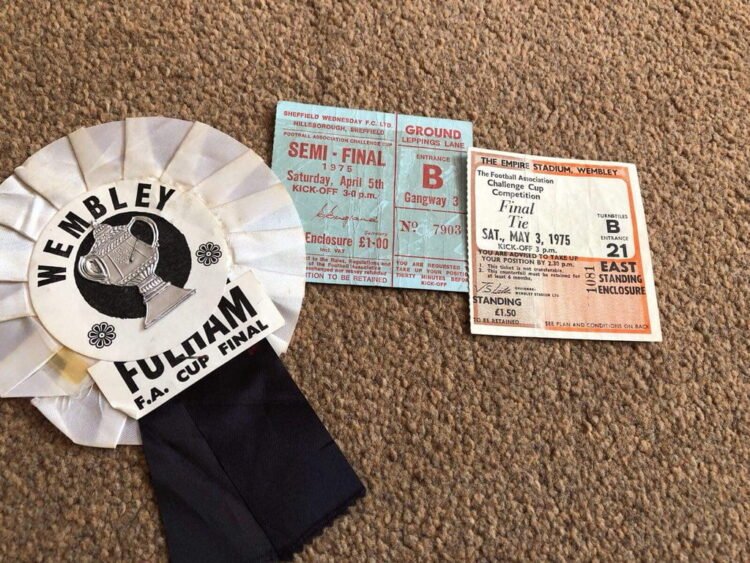 The build-up was certainly not in keeping with Fulham's status as a club that kept a low profile.
Under the guidance of Alec Stock, they had charted a seemingly impossible route through to the season's showpiece, disposing of three First Division sides and somewhat surprisingly, every win came away from Craven Cottage.
The concept of extra time and penalties hadn't been introduced, meaning teams would contest replay after replay until there was a winner.
Fulham's journey to the Final was the longest in history. This remarkable string of matches included four ties against Nottingham Forest, the last of which saw the enigmatic Viv Busby score twice to help the Whites progress.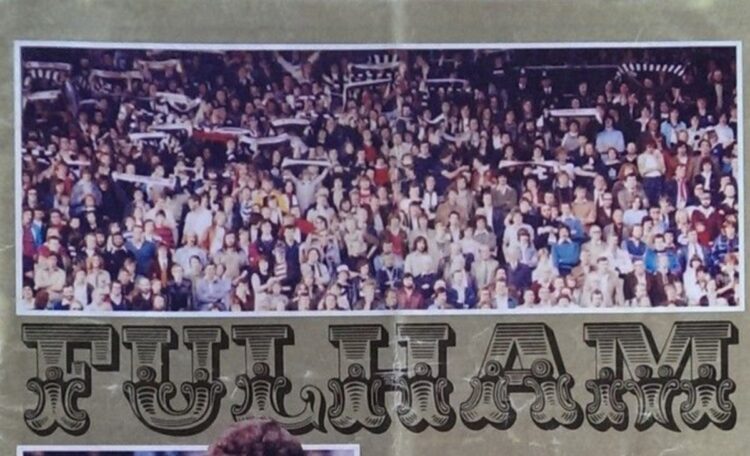 That meant a fifth-round clash with Carlisle United and a long trek up to Brunton Park. It was a day Wayne Bradford would never forget.
"The players came on the train with us," he remembers fondly. "I spoke to Alec Stock, got his autograph.
"They appreciated the fact that for someone to travel up to Carlisle back in the 70s, you were talking leaving at 4, 5 o'clock in the
morning. It seemed to take forever."
One of Wayne's most vivid memories is staying in, desperately waiting for news from the semi-final replay against Birmingham. He had gone to the first game at Hillsborough, but being just 12, the journey to Maine Road was not possible on a school night.
"My friend was round my parents' house and I remember it coming up on the news, saying: 'Good news, it's an all-London final."
With that, we were all up in the air because that was the first time we knew what the score was and it took ages to see the actual goal from John Mitchell."
West Ham, with Billy Bonds roaming the midfield, awaited and were probably slight favourites, but that underdog status did not dampen Stephen's expectations.
"I thought we were going to win it. I loved Viv Busby, he was on fire. Don Revie almost considered taking him into the England squad at one stage.
"We had Bobby Moore and Alan Mullery. What else do you need? You had the greatest player ever to wear the shirt playing against his old club. I thought it was written that we'd win."
Others concur that Moore, despite moving to SW6 in the twilight of his career, was up there with the best to have pulled on the black and white shirt.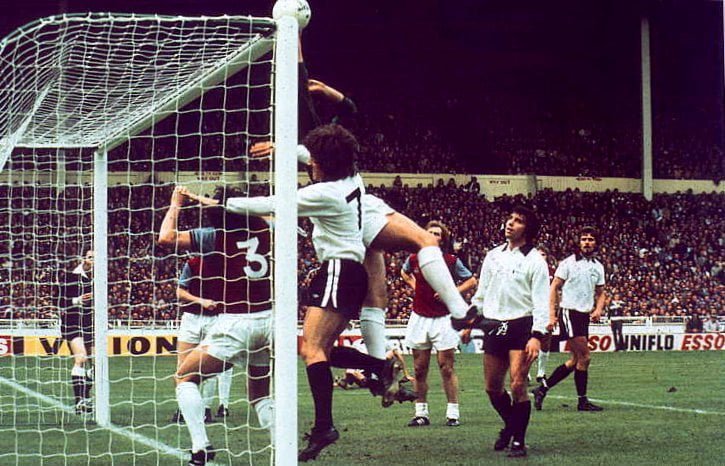 "It was amazing to watch him," gushes Paul Baker, who attended the Final with a group which included Keith Allen.
"He was amazingly calm because his positional sense was so extraordinary that the only time you noticed there was a problem was when he put on a turn of speed. If he was caught out of position, I remember seeing him and thinking: 'What's happened? Bobby Moore is sprinting, he never does that.'"
Saturday jobs were postponed for the occasion.
"I used to do rounds as a milkman and get a couple of quid," said Wayne, who went with his friend Paul.
"I didn't do it that day because we wanted to be up there to savour the atmosphere. We wanted to see what was going on."
Sadly, the game didn't go to plan for Stock's men, with two second-half strikes from Alan Taylor taking the Cup to the East End for the second time in their history.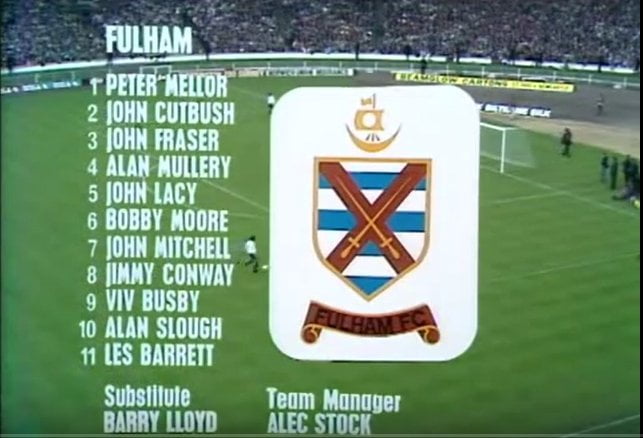 Stephen was not allowed to forget the result.
"I went on my own and stood in the Fulham end and the worst part of that story, apart from losing, was where I lived in those days was West Ham territory. We went out for a pint, me and my Dad, surrounded by West Ham fans celebrating. I was sitting there in my Fulham scarf. I felt a bit of a plum that night."
Paul was similarly downcast. "What I remember about that day was a sense of inevitability when West Ham scored and then almost immediately again. That was such an enormous deflation. After all the excitement of the Cup run, the dejection of the match was tough."
Wayne's recollections are somewhat more rosy. "It was me and my friend, along with 20-odd thousand Fulham supporters. It was just a fantastic day and all I remember is from the time we walked into Wembley, we never stopped singing, even when we were losing.
"I've never known Fulham sing like that and I've never heard it since, to be honest."
Clubs were not considered merchandising machines as they are now, but thankfully Stephen has some tangible reminders.
"Last year, for a Christmas present, my son got a programme of every team we played in '75. He put them all in a picture frame, put a Wembley programme in front of it and a copy of a Wembley ticket – it wasn't my ticket, I'd lost that since. It's in a part of my lounge where I can see it. That was a really cool present."
However, there are other, more poignant memories attached to the occasion.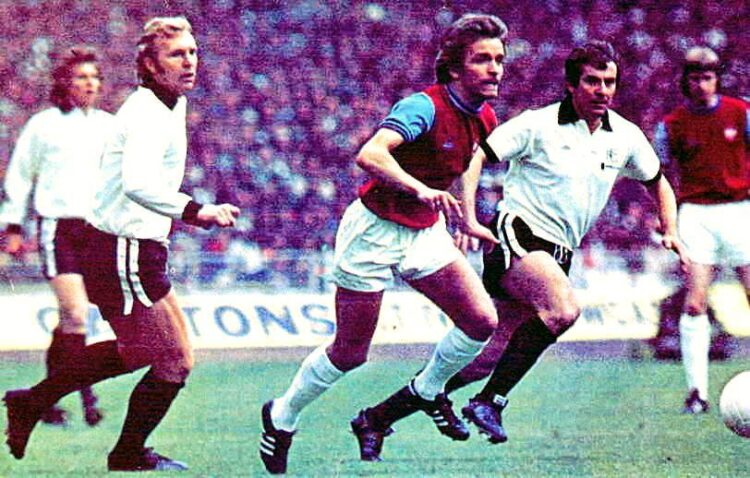 "My dad Bertie and I only had enough tokens to get one ticket," Glen recalls. "So I ended up going. He died shortly afterwards.
"A friend of mine is a Spurs supporter and they got to the final which then went to replays, so I managed to get tickets on both occasions [in 1981 and 1982].
"That was still pretty good, but it wasn't the same as my dad going to watch the club he'd supported all his life."
Stephen is going to tomorrow's match with his wife Christine and son Stephen, but working as a magnetic health jewellery on Romford Market means the decision does not come without its sacrifices.
"Every time I give up a Saturday or a trade market, apart from the costs of the tickets and the fare, it also costs me a day's takings and Saturday is my busiest day. This Saturday is costing me hundreds to go."
Wayne will be there with three generations of his wife's family as well as his younger son Jack, who is, shock horror, a Chelsea fan.
"He always gives us a big cheer until Fulham start singing about the blue flag," Wayne chuckles.
"I've already had a cheeky bet – 3-0, Mitrovic to score first. I really do believe Fulham will win this one.
"I just feel it's right for us and my only dread is if we lose, what would our team be like next year. The one we don't want to see go is Slav. Will he give it another go?
"That's why I think the pressure is on Fulham a little bit more than Villa. If we don't go up, we could lose a manager and maybe five or six players."
Despite the monumental changes that have taken place, the charm that characterises Fulham and Craven Cottage is still there for all to see. It keeps drawing Stephen back to the banks of the Thames.
"I know we're all biased, but there is something about the club. It's wonderful. I remember Chris Coleman said: 'We don't play in a stadium, we play in a ground.'
"We're all going to say our fanbase is unique. It's probably no more unique than Aston Villa's, but we feel it is. We feel there's something special."
Now living in Falkirk, Glen is unfortunately unable to make the trip due to health reasons, but will enjoy the game in front of the TV with loved ones. He is happy with the owners.
"The way the Khans are looking after the club is pretty positive. You feel they have an affinity with what the club is about and appreciate keeping the heritage of the place as well."
Stephen feels regretful about not inviting his dad along in 1975.
"I hope it's not another 43 years, because I won't be around to see it, that's for sure.
"We'll get the first goal, it will open them up and that suits us. I think that's how it will be for us. What do I know? I just support Fulham."