Fulham return from the International Break with a trip to Norwich City at Carrow Road, which should provide a stern test for the Whites, who will face an inconsistent but clearly talented Canaries side. As ever, our man George Singer has all you need to know.
Their Recent Results
W: Norwich City 3-2 Reading
D: Barnsley 1-1 Norwich City
L: Hull City 4-3 Norwich City
D: Norwich City 0-0 Nottingham Forest
D: Norwich City 0-0 Bolton Wanderers
Our Recent Meetings
Aug 2017: Fulham 1-1 Norwich City
Apr 2017: Norwich City 1-3 Fulham
Oct 2016: Fulham 2-2 Norwich City
May 2015: Norwich City 4-2 Fulham
Match Odds with Grosvenor Casino
Norwich City: 12/5
Draw: 5/2
Fulham: 21/20
Fulham to win and keep a clean sheet: 3/1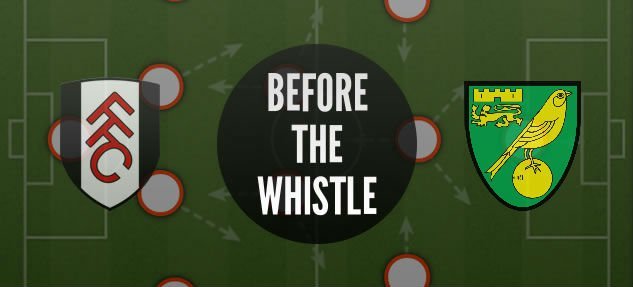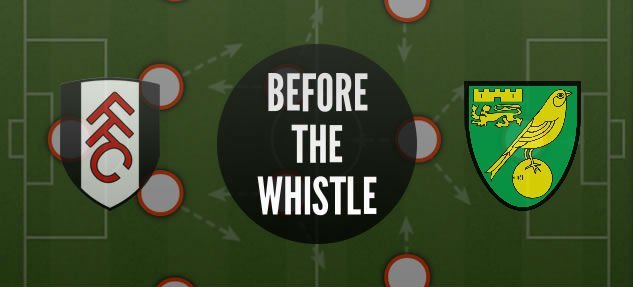 Hello and welcome to another edition of Before the Whistle! After an entertaining international break, it's time to get back into league action. Fulham make the journey east to Carrow Road, and attempt to continue recent excellent form against the Canaries and bring home the 3 points.
Last time we played
Fulham's season opened with a match against the Canaries at the Cottage. It was a low scoring yet entertaining affair, featuring 2 teams with equally high promotion hopes.
The Whites took a well-deserved lead, when Ayité's strong cross deflected off Russell Martin into the back of his net. Fulham impressed throughout the game, with some lovely passing football, and continued to push hard for a second to kill the game off. Neeskens Kebano almost put the game to bed, with the tricky winger's shot hitting the far post after some clever buildup.
However, in a fashion that became typical for Fulham's early season, concentration wavered late on. A lovely chipped through ball over Ream and Kalas gave Oliviera a rare chance, which he gladly took.
Whilst the season opener felt like a battle between two league heavyweights, the match on Friday feels decidedly different. As the Whites aim to strengthen their grip on 3rd place, Norwich know anything but a win would surely kill any dwindling hopes of a late playoff push. So, what can we expect to see from the Canaries?
Expected formation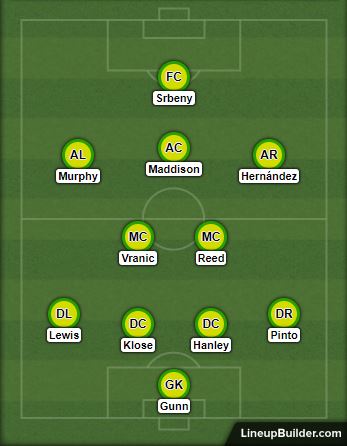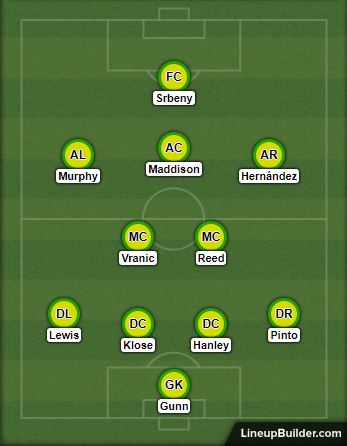 Since taking over, Daniel Farke has shown that he likes to keep rotating both the setup and squad. Whilst 4-2-3-1 is the most common formation they use, it's not uncommon to see them switch to 3 at the back for some games. They also rotate through their squad a fair bit, so we may well see some different faces to those who played against Reading.
Norwich are a team that like to play football the right way, however have found results tough to come by. They average 54% possession (the 4th best in the league), and the 4th most shots per game.
They also use their wingers to good effect, with direct attacking runs often causing havoc in opposition defences. The signs of a good team are right there, and Norwich will surely be one of the teams to look out for promotion next year.
Man to Watch: James Maddison
My man to watch this match is surely the second best English youngster in the league. James Maddison has had a wonderful season for the Canaries, after a couple of years out on loan to Coventry and Aberdeen. Playing behind the striker, he's been involved in 20 goals (13 goals & 7 assists) in 34 starts.
These are seriously impressive numbers, especially considering he's a young man playing in Championship – which is notorious for having some of the toughest midfielders in the world.
In particular, Maddison's set piece delivery has been one of his main weapons. From set pieces alone, he's created 5 goals and scored 2. As it's certainly an area of weakness for the Whites, it's something we'll need to be really wary of.

He's also shown that he has a wonderful long shot on him. The below diagram shows the 'open play' goals he's had this season. They're all strikes from deep, and all classically difficult shots (with a low xG rating).
Whilst he may well struggle to recreate this output in tougher league, when he inevitably get poached by a bigger team, for now it's something we'll need to prepare for. Pressuring the youngster outside the box will be key to stopping him scoring yet another wondergoal.

Notes for Slav
Games against Norwich have been a happy hunting ground for Fulham for points for many years now. Against a Canaries team which is surely in a transition period, with little to play for, this may seem on paper much easier than some of our recent wins.
However, Norwich have some high quality players, and like to play football in the right way. They're comfortable on the ball, and will expect to have a fairer share of possession than most of our opponents.
In particular, we'll need to prepare defending set pieces. I'd be looking at practicing defending corners – especially as Norwich scored 2 in their previous match against Reading. Also, putting pressure on Maddison when he's outside the box will be key, as we look at shutting out the England youngster.
If we put in a performance we're capable of, and put right the wrongs we made against QPR, there's no reason we can't keep this record-breaking unbeaten run going and keep the pressure on the 2nd place Cardiff.
COYW!!
This article was written with the aid of StrataData, which is property of Stratagem Technologies. StrataData powers the StrataBet Sports Trading Platform, in addition to StrataBet Premium Recommendations.