Fulham look to record three successive league wins for the first time this season as we host an unpredictable Burton Albion at Craven Cottage. Here's George Singer with an in-depth look at the Brewers' team.
Their Recent Results
L: Burton 1-3 QPR
L: Birmingham 1-0 Burton (FA Cup)
W: Sheffield Wednesday 0-3 Burton
D: Burton 0-0 Norwich
L: Burton 1-2 Leeds
Recent Meetings
September 2017: Burton 2-1 Fulham
February 2017: Burton 0-2 Fulham
September 2016: Fulham 1-1 Burton
August 2013: Burton 2-2 Fulham (League Cup: 4-5 on Pens)
Match Odds with Grosvenor Casino
Fulham: 4/11
Draw: 4/1
Burton: 13/2
Fulhamish Tip: Fulham to win 2-1 with Ojo first goal scorer at 50/1 with Grosvenor
New players at Grosvenor Casino get a £20 sign-up bonus, and double odds on your first bet up to £10.
---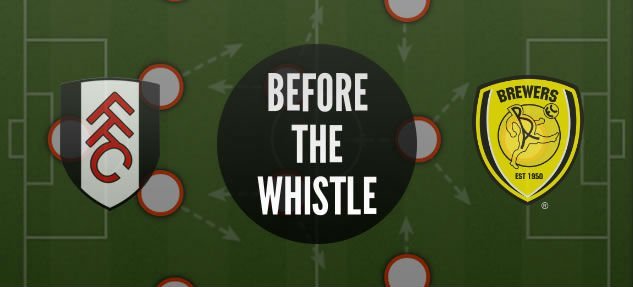 Hello and welcome to the latest edition of Before the Whistle! Today, I take a look at our next visitors to the Cottage, Burton Albion, and what we should expect to see from the Brewers.
Last time we played
What a truly depressing match this was – a game that summed up an underwhelming and uninspiring start to the season for Fulham. In a game the Whites should have really expected to dominate, poor finishing cost us dearly. The boys came home with their tails between their legs, and no points to show for their efforts.
After Stephen Warnock opened the scoring for Burton, a good finish from Norwood ensured the teams went in level at half time. An interesting penalty decision helped Burton take the lead again in the second half, which they didn't let slip. A toothless Fulham team, including a cameo-debut for Jordan Graham, couldn't force an equaliser – keeping us pegged down in mid-table mediocrity.

The Whites will be hoping to make amends back at the Cottage, in a match where they go into as strong favourites. Burton are currently sitting in the bottom 3, and the underlying data suggests they're not likely to move away from a relegation scrap any time soon.
However, as we know all too well, we need to be careful when facing teams fighting the drop. They'll be scrapping for every point they can get, and look to frustrate us wherever they can. So what do we need to prepare for?
Likely Burton lineup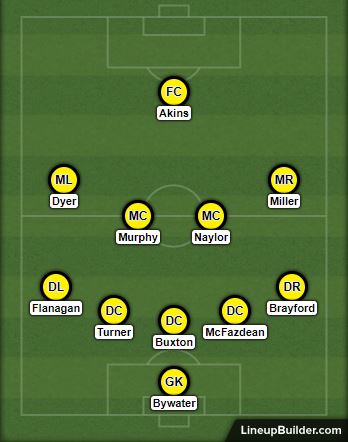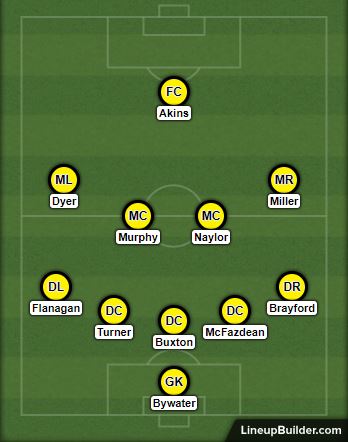 Burton are a team that like to fill the pitch, and get players behind the ball; exactly the kind of team that we hate to play against.
It's most common to see them line up in a 5-4-1, a formation they sporadically rotate with a 4-5-1. When they don't have possession, they'll squeeze as many players as they can between the ball and their goal – often forcing the opposition to get past 10 defending players. However, when they do have the ball (on average 43% of the time – the 2nd lowest in the league), the wingers will push up the pitch to support a lone front man in Akins.
In an attempt to get past their packed defence, there's only one way we should look to play: attack with speed. This is how QPR managed to score 3 goals past them last time out. By hitting them on the break, and thriving in pockets of space left by a scattered defence, they could move the ball forward and create chances. This Burton team isn't one we can break down by passing them to death. Playing this way will only play into their hands – as they'll sit back and let us tire ourselves out.
Man to watch
In a difficult season for Burton's attack, there aren't an abundance of players to pick. However, there is one attacking player who's hit some good form: Lloyd Dyer. The veteran left winger is rolling back the years, scoring 3 goals in his last 7 games.

As expected with teams that sit back, it's the counter attack where Burton are most dangerous. Fast breaks are where Dyer thrives, picking his moments well to charge forward when opposition defences are out of formation.
Above is an example of a classic Burton counter attack, with Dyer racing forward to link up with Lucas Akins. At the point of Burton winning possession, they immediately looked forward to feed the ball to Akins – who sits in the gap between defence and midfield. He held the ball up well, and fed Dyer through a disorganised defence with a weighted throughball.
This is the sort of attack we need to look out for: quick balls forward to Akins on the break, who goes on to feed his supporting wingers.
Notes for Slav
This week, I have 2 suggestions to give to Slavisa.
Firstly, against a packed defence, we will need players who have the ability to quickly move the ball forward in the attacking third. This is the kind of game where a deep lying playmaker, like Norwood, would actually hinder Fulham's play as he wouldn't give us the pace to our attacks we'll need. As Burton offer very little on the ball, there seems little need to play 3 classic CMs. Therefore, is this a match where we could replace Norwood with a forward like Piazon?
Secondly, in an attempt to stop counter attacks, I'd suggest that McDonald plays a more limited role, keeping close to Akins when Fulham are on the ball. If we can squeeze him out of the game, we will starve Burton's focal point of counter attacks. This would go a long way to keeping the Burton attack out, and towards gaining a valuable three points.
This article was written with the aid of StrataData, which is property of Stratagem Technologies. StrataData powers the StrataBet Sports Trading Platform, in addition to StrataBet Premium Recommendations.