Nick MacNee provides his thoughts on Saturday's derby loss against Brentford and strongly condemns Slavisa Jokanovic's dreadful managerial display.
Well that was awful.
There's no other words for it: yesterday's display was shambolic and very much a throwback to the days of routinely getting killed by Brentford every six months or so.
I thought we'd progressed past this point. We'd sorted out our recruitment process, hired a young and upcoming manager who plays up-tempo and exciting football and fixed a truly dire transfer process. Instead, it seems like we are back at square one all over again, despite the improved performances over Sheffield United and Millwall.
Yesterday's line-up from Jokanovic wasn't just a shambles, it was full blown stupidity. What kind of message does it send to your two strikers sitting on the bench that the manager prefers to start a hopelessly out of form central midfielder up front over them?
It was just a completely nonsensical decision from a manager who seems upset that he isn't managing in the Premier League this season, whether it's with us or at West Ham.
What rationale is there to justify that decision? None. It's almost as if Jokanovic happily decided that he wanted the pressure on his shoulders from after Wolves to return for absolutely no reason whatsoever.
I don't blame Johansen. It's not his fault he was shoehorned into that position with almost no confidence at this current time. He probably did as much as Fonte would've done for the first half hour or so.
Fulham looked fine for that initial opening 30 minutes but promptly crumbled after Brentford equalised and the same mistakes that we've seen all season long quickly came back.
Another goal conceded from a poorly cleared set piece. Another goal from a ball being crossed from the right wing because Sessegnon was caught too far upfield and isn't a full back.
Yet Jokanovic fails to realise these basic errors time after time and yet keeps blaming the players for not having enough "courage". Tosh.
The substitutes and the in-game tactics made the starting XI even more baffling. Push both full backs forward and let Sergi Canos and Ollie Watkins terrorise Kalas and Odoi? No, sure.
Taking off your best attacking player in Kebano for Fonte while keeping FOUR central midfielders on? Farcical. Yes, Brentford were good but they didn't dominate every part of the game like Wolves did to us.
You sensed that we still had a good chance of taking all the points during half time, only for the team to somehow look even more demotivated. Jokanovic just made it so much more difficult for Fulham than it should've been.
The game cried out for Aboubakar Kamara to put pressure on Brentford's backline yet it never bizarrely materialised. Jordan Graham with eight minutes and stoppages to go?
Really? That's not me criticising Graham, who looked lively when he came on. Rather, why have you decided this of all games to give the poor bloke a go when he was needed so much more in other situations?
Finally, what on earth possessed him to mindlessly blabber that he was thinking of taking Odoi off but didn't? Are you insane?
The defender is on a yellow card, hobbling about and already been warned for making a bad barge tackle. His decisions reeked of nothing but hopelessness, similar to the end of Martin Jol's time at the club.
It finished 3-1 and it probably should've been five for Brentford had the likes of Yennaris and Watkins not missed other chances in the second half.
Expected goals surprisingly had this down with essentially a two goal margin in favour of Brentford. It felt at the game that it really should've been a lot more.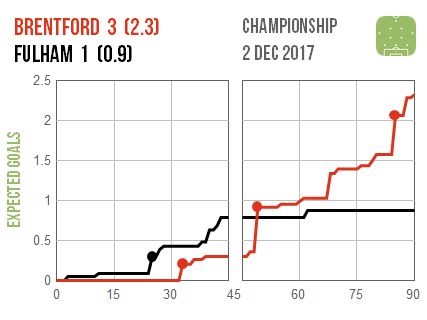 The Status Quo
So where do we go from here? Well, let's talk about the general state of the club currently.
The club isn't in danger of any financial disasters that Bolton could be headed to and the likes of Alistair Macintosh and Casper Stylsvig have done a great job rebuilding the business and infrastructure sides of the club after relegation.
Ongoing developments in the training ground and stadium are a very positive sign for the future in terms of facilities for the first team and the academy.
The standout issue though (at least to me) is the dialogue between the club and the fans. For a club that has prided itself on its so-called transparency and has won seemingly awards for it, it doesn't feel that we as fans are getting many answers from the club about what really happens in recruitment and on the pitch.
The club are more than happy to talk about the redevelopment of the riverside stand, the purchase of an additional training ground and the general infrastructure of the club yet have shied away from conversing about the actual team.
After all, we've just fired our assistant director of football and no one really knows what's happened, with outlets like the Star and Daily Mail running rampant about how Craig Kline turned down Lionel Messi or whoever because his excel spreadsheet said no.
I know there's legal factors at play here and we'll probably never know who he bought in but a simple statement would've been better than radio silence.
I do think that one aspect is sadly clear however for Fulham: They need to part ways with Jokanovic at the end of the season.
There's not much point in sacking him now (unless you've already lined up a replacement) as it would just be a waste of money for the Khans by paying out the rest of his contract when we know Jokanovic will at least keep us in the division.
His refusal to give minutes to players of the likes of Soares, Mollo and Jordan Graham is just bizarre and stinks of a child who has thrown his toys out the pram because Sone Aluko was sold.
His in-game decision making is getting progressively worse by the game since we appointed him. He doesn't deserve backing in the January market because he hasn't earned the right to be able to pick the players that he wants.
If he's treated the aforementioned trio so poorly, what will happen when a player he brings in isn't as good as he hoped and is shunted to the side? He has to work with the hand that he's been dealt with and thus far, he hasn't shown any inclination of doing so.
There's a lot of discussions ongoing on the forums and social media about how "there's no one available out there" that could do a better job than Jokanovic, which is a ludicrous argument.
Let's look at the lower divisions, for example. You can't tell me that Nathan Jones at Luton (who I've been a big proponent for) wouldn't do at least a good a job as the Serbian is currently.
People complain about the fact that top tier clubs aren't giving young, English managers a go in the Championship or Premier League, yet appoint the usual suspects of Pardew, Allardyce, Bruce, etc, so let's buck the trend for once.
Jones, Michael Appleton, Paul Hurst. All are good, young managers are out there who encourage playing good football while also remaining solid at the back, something we haven't done for years. Hell, if you want to go down the "coach with good experience" path, you could do a lot worse than Oscar Garcia, formerly of Brighton and Saint-Etienne.
Fulham need to figure out a plan for the matters on the pitch. Find a coach or manager who'll happily work with the stats and scouting people rather than throwing a hissy fit in the public domain because he can't sign Cameron Jerome.
Identify what style of play the manager wants the club to play and buy players who fit the style and who the manager is happy with and won't needlessly cast aside. As I said in a previous article, get the plan together and stick it somewhere so everyone, the players, staff and management can all see and stick to it.
After all, we've just been beaten comfortably by a team that is open to their fans about what their goals are and how they're going to do it and they're prospering! Come on Fulham, open a dialogue with the fans about playing matters and don't just skirt about it in your monthly meetings with the trust.
Other Tidings
Funny that it was Ollie Watkins, last year playing in League Two, that destroyed us. Ah yes, of course, we don't scout the lower leagues "because the data doesn't exist". Pathetic.
I asked on Twitter if they would prefer Cyriac or Fonte and Kamara for this season, as the former went to Turkey for just £650k and has scored the same amount of goals as Fonte has currently while actually looking much more of a goal threat. Of course, different teams and all but the fact that a slight majority favoured Cyriac is… telling. Very telling.