Nick MacNee provides his thoughts and analysis on Saturday's game against Millwall and why he thinks this was Rui Fonte's best game in the past three months.
When you ask people (specifically Premier League fans) about what they think playing in the Championship is like, you get a variety of words ranging from "a slog" to "tough", with the occasional "LOL Enjoy Burton away" comment followed by numerous laughing emojis.
That reputation (aside from the Staffordshire club) truly lived up to yesterday's game. It was both awful yet somehow mildly entertaining. In fairness, we probably deserved this truly dire game after the midweek shootout against Sheffield United. After all, what else would we expect from a game where one of the starting CM's on Millwall is Ryan "I have no technical ability" Tunnicliffe?
At times, the ugly side of Fulham that reared its head in October showed in this match. Tom Elliott's 7th minute header that hit the post after he found space between Kalas and Odoi had many of my companions watching through gloved fingers around me firing up their complaints about how we can't deal with physical strikers.
Typical then that literally nothing but a half of failed counter attacks occurred, with Stefan Johansen and Fred Onyedinma the culprits for losing possession time after time on these failed attacks. These dreadful attacks went back and forth, with Fulham seemingly perplexed by a Shaun Hutchinson-led defence (in fairness, he had a good game and has supposedly been very good this season for them) and Millwall hell-bent on getting Tom Elliot a headed goal. The half's only real moment of attacking quality came from Tom Cairney played a delightful throughball to Neeskens Kebano, who was denied by McLaughlin with an even better sliding tackle.
Going in 0-0 was probably a fair reflection on a dreadful first half (in terms of entertainment) before McLaughlin tugged Rui Fonte's shirt in the box and gave away the game-winning penalty. How Neil Harris can complain about Fonte "conning the ref" despite it being a penalty we've seen given so many times is… interesting. Of course, Fulham seemingly have found a competent penalty taker in Ollie Norwood who promptly dispatched it. 1-0 and I'm certainly not complaining.
The second half started with Kamara coming in for Johansen, a move which I supported fully, although maybe not for the right player (I'd have gone with Tayo Edun over AK). To say Johansen had a bad half is an understatement, although how much of that is down to injury remains unclear.
At this point in time, I don't really see why we shouldn't give his starting spot to Norwood or Edun, who both provide the role he plays quite easily. Losing the ball in open play repeatedly is bad enough, making terrible decisions on counterattacking opportunities is worse. Credit to Jokanovic for changing it up and realising Stefan's poor performance, although sticking with 3 CM's is probably what is best for the team.
Millwall proceeded to tear through our lightweight two-man midfield, with the Lions' threat at set pieces very pronounced. I wouldn't even have to refer to you to advanced stats to tell you that they're a good set piece team, you'd probably understand from having one look at the height of Jake Cooper, Elliott and Sean Morison.
Fred Onyedinma had a chance on the edge of the six-yard box but Button had already come out and blocked well. Sheyi Ojo somehow headed straight at Archer after a Sessegnon header and then the game died down. Jokanovic realised that Tom Cairney couldn't handle the physicality of the Millwall central midfield and promptly took off Fonte for Edun. Again, the right decision, although maybe harsh on Fonte.
The game reverted back to both team's fouling in their opponent's half for 20 minutes. In other words, truly inspiring stuff. George Saville hit the post with a lovely curling shot that probably represented the game's other high quality moment outside of Cairney's pass. Good effort.
Lee Gregory came on for Millwall, to which Jokanovic unveiled the Fulham's version of Game of Thrones' "The Mountain" in Marcelo Djalo. I can probably imagine that Slav said to the Spaniard "Don't let Elliot win the ball, regardless if you foul him or not". Djalo promptly responded by beating him in the air, getting it to Kamara, who was promptly fouled.
Of course, 30 seconds later, he sliced Elliot down in the semicircle and I joined my seated companions in watching the game between gloved fingers. Saville chipped it over the bar and Fulham saw out the remainder of the game relatively comfortably. 2 wins in a row, priceless for Jokanovic ahead of next week's derby against Brentford.
Tactical Analysis
Fulham started off the game in their usual 433 shape, with Norwood returning to the McDonald role that he occupied against Derby. It was another strong performance from the Northern Irish international, who won a fair amount of aerial duels as well as converting the penalty.
It remains to be seen whether he takes Johansen's role against Brentford, given how bad the Norwegian was. Johansen's substitution was a necessary adjustment by Jokanovic, but going to 4-4-2 wasn't. It lasted less than fifteen minutes and brought Millwall back into the game, although this might have been different had Ojo put his header anywhere else apart from straight at Archer.
Tayo Edun was brought on for Fonte and Fulham reverted back to 4-3-3. Edun had a good game going forward, playing a lovely through ball to Ryan Sessegnon at one stage, but still leaves something to be desired defensively. It's quite telling when you see Tom Cairney of all people alongside Norwood making tackles in front of the box rather than Edun, although it would be harsh to criticise Edun for this. He will have learnt lots from Saturday's defensive stand and looks to be a rotational feature in the team for the rest of the season.
With Neil Harris throwing on Lee Gregory in the 75th and George Saville promptly hitting the post, Jokanovic threw on Djalo for his league debut and Fulham switched to the 352 system they usually change to when they want to see games out (Bristol City away last season, QPR away this season).
You can make what you like of Djalo's performance but outside of giving away a free kick in a bad area, he largely did what he was expected to do in heading the long balls away. He was probably helped by Tomas Kalas having his best game of the season so far, who looked much like he did at the start of last season. A return to form for Kalas would be a huge help to Fulham going into Brentford, given how low of confidence he looked in October.
Progress At Last
It's a relief to see Fulham have finally shied away from attacking teams solely through their full backs. In the past week, we've seen Fulham embrace some tactical change by aiming more long balls up to Fonte or Ayite, with less reliance on possession like last season (although Fulham stilled ranked at 63% possession).
If you subscribe to the Chalice of Expected Goals, then Fulham's performance has improved dramatically since the Wolves debacle. In the past 3 games, they've put up an xG differential of +2.8, compared to October's -1.1. Signs of life indeed.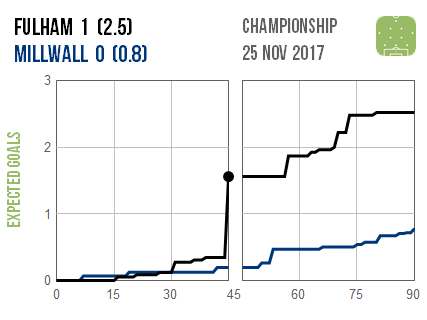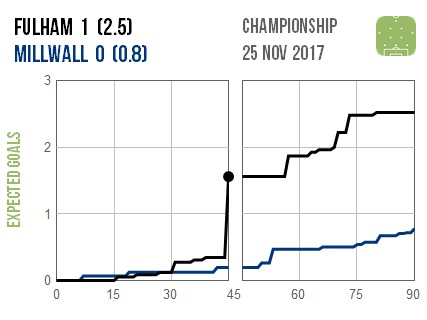 We know there's a good team in there, we saw it last season. It's a matter now of stringing together wins like we did at the end of last season to get us out of the hole we dug for ourselves. Brentford, Birmingham, Sunderland and Barnsley are all winnable games. Getting within reach of the playoffs would be a good start to the Christmas period for Fulham.
Other Tidings
I thought Rui Fonte had his best game in a while. Yes, he didn't end up on the scoresheet but his harassment of Cooper and Hutchinson throughout the first half led them to constantly hoof it forward with no one in mind, turning over possession. He also used his body to bring down the ball on aimless punts from Button a fair few times and win fouls off the aforementioned CB's.
It's a shame he came off as I thought he'd have been a far better influence on the second half than Kamara was. Goals will come for the Portuguese striker and Saturday's game should cement his position as the starting striker for Brentford.
Marcelo Djalo also has not warranted the criticism he has received. Was the foul on Elliott stupid? Yes. Did it matter in the end? No. He played fine and dealt with Millwall's three headed attack (literally) as well as one could hope from a player making their League debut as a substitute.
He's not a tire fire, let's leave out the criticism just because Kline signed him and Jokanovic didn't want him. The manager ultimately had enough faith in him to bring him on the situation rather than his previous defensive substitution of throwing Ibrahima Cisse into the fray.
Before you ask: yes, David Button should still be our starting keeper. We've just kept a clean sheet at home for the first time since January. Just because we play it short doesn't mean that Marcus Bettinelli should be in the team just because he looks good and shouts a lot.