The Stats Factory: Why You Shouldn't Be Worried About Rui Fonte
Written by Nick MacNee on 16th August 2017
The striker is undoubtedly the most important individual in football nowadays. While defences may win you championships, as the saying goes, it is the striker that ultimately provides goals, an objective that can't exactly be valued in financial terms as it's what wins you individual games.
Of course, there have been numerous important goals in history with various "values" behind them, none of which are more relevant recently as the so called "billion-pound goal" scored by Jesper Gronkjaer for Chelsea against Liverpool which supposedly led to Roman Abramovich's takeover. Broadly speaking however, it is hard to place a monetary value on goals –and yet their importance cannot be understated, as everyone very well knows.
This leads me on to strikers. Strikers, as has been the case for a long time, are usually higher valued than their fellow counterparts in midfield, defence and in goal due to their goal-scoring prowess. You only have to look at Neymar's recent transfer to Paris Saint Germain to see the extent to which some clubs are willing to pay for a striker – considerably more than their peers making up the rest of a team's formation.
Is this the norm now, paying £200 million or more for football players? That's tough to answer, and a question I should probably leave alone. Regardless, it does show one thing: the inflation of player values, specifically strikers. Fulham, in a sense, have already witnessed this inflation last summer with the Ross McCormack transfer saga.
£12 million for a striker who was turning (at the time) 30 in August was crazy, especially with rumoured attitude issues behind the scenes as well as the issue of making the entire team cater to his style of player, because McCormack couldn't not function in any other system. However, solely because he scored a lot of goals in a bad Fulham team, these red flags were swept under the carpet by Aston Villa and Fulham accepted a cool £12million which allowed them to drastically overhaul the playing squad. In hindsight, the deal looks dreadful, but also it has become increasingly clear that the issues were totally foreseeable at the time.
However, McCormack is the classic example of a "proven striker" at this level of football. After all, his record at Championship level speaks for itself: he scored 58 non-penalty goals (NPG's) in the three seasons preceding 16/17, an average of 19 per season. Broadly, and simply looking at goals, £12 million is a superb price for a 19 goal a season striker!
Common sense would then tell you that a younger striker who produces a similar NPG output is likely to cost far more than twelve million, especially in this inflated market. Chris Wood, a name which many people threw at me when I asked for examples of "proven" strikers, is the poster figure for all this, with Leeds rejecting bids of £20 million plus already.
That brings me onto Rui Fonte.
Fulham's need for a striker is well known and has been since McCormack/Chris Martin left. However, so is finding the right striker for the system, someone that Slavisa Jokanovic is happy to play (Sorry Cauley Woodrow, Cyriac) and for a reasonable fee due to FFP. That's three fairly big requirements that Fulham need to fill. Oh, and there's the whole stats thing as well.
DISCLAIMER: The following paragraphs contain statistical analysis of football players. If this is an item that distresses you, I strongly suggest you close the tab and turn on Sky Sports News. I hear Harry Redknapp is having a press conference right now. (Sass is author's own – Editor)
Stats Analysis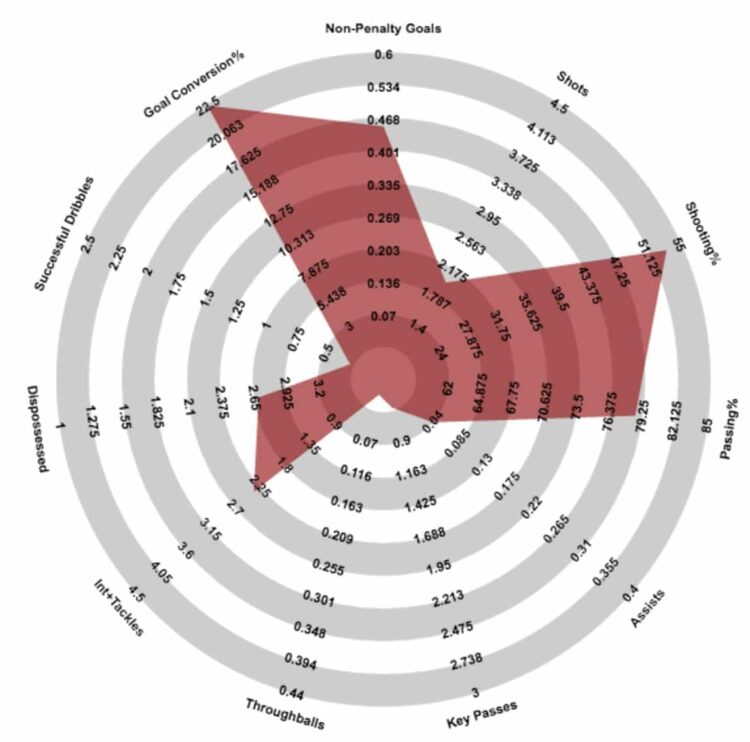 Examining Fonte at the very basic statistical level with a radar chart of last season shows a few items but mostly that he was excellent at shooting (i.e. when he shot, over 50% of the time, it would hit the target). He almost possessed a rate of scoring in one in every four shots! Now, this is liable to fall thanks to the laws of regression, standard deviation, etc.
However, if these are to occur, it is likely to happen because of how he will be having more shots: Braga only took 10.8 shots per game last year, considerably less than relegated Nacional, at 12.6. Fulham took, well, a lot more than 10.8 shots per game.
What does that mean? In basic terms, more chances for Fonte to score goals. If Fonte were to receive as many shots as, say, Tom Cairney last year, even at an average conversion percentage (say, 13%) Fonte would score about 15 goals for the season, which is a fair output given how our wingers in the current system, if the standards remain consistent, should contribute about 8 goals per player, although we know Sone Aluko will require about 150 attempts to achieve this.
Shot location is also hugely important for a striker. While I (sadly) don't have access to shot maps of Fonte last year, we do have expected goals (xG), which places a numerical value for the chance of a goal that each shot has. Long shots from outside of the box are likely to have around a 3% chance of scoring, while penalties have around a 75% chance of scoring (although Fulham last year set out to disprove this). Adding up every shot (Data courtesy of Stratabet) that Fonte took produces an xG total of about 7.12 expected goals for the season (Note: I'm not taking into account Europa League data, just Liga NOS).
Normalising this to per 90 minutes produces a figure of 0.29xG/90, which is… ok. In fact, it's oddly similar to another noted Fulham striker target, Diego Rolan (0.28). Dividing Fonte and Rolan's xG totals by the amount of shots they took puts Fonte and Rolan at 0.145xg per shot and 0.115xg per shot respectively, showing that Fonte generally takes shots in better locations than our Uruguayan friend in Bordeaux.
Fonte's over-performance of his expected goals total may have you worried more so now that he could fall back down to earth. You shouldn't be that worried, however. Over-performance of expected goals indicates he was finishing chances at a good rate, rather than underperforming where he was missing chances in good areas. One example of this was one of Middlesborough's recruits, Martin Braithwaite who has underperformed his expected goals totals… for the past four seasons. That's an example of a red flag that Fulham most likely would've known about.
Thus, the statistical analysis is now concluded, and you can now relax.
Other Tidbits
Speaking to Braga fans about Fonte (who have no doubt seen a lot more of him than you and me), the general consensus was that he was by far and away their best player in what could've been a disastrous season for them. His work ethic is fantastic (2.36 tackles and interceptions per 90), he's great in link-up play (we might get a smile from Slav out of this) and he can score goals. As a Fulham fan, that's music to my ears.
That leads us onto pricing. We've already seen Middlesborough buying Britt Assombalonga for £15 million (Too high for an injury-prone striker), Cardiff rejecting £10 million plus for Kenneth Zohore (Nowhere near enough) and Leeds rejecting more than £20 million for Chris Wood (way too much money). These are, as stated before, "proven" strikers in this league.
If the entry level price for this season is at £15 million compared to £12 million last year, then Fulham are right to search elsewhere. After all, £15 million was practically as much as Fulham spent last year on reforming their entire squad last year. Fonte represents a player who has featured in a top five team in Portugal and has played in European competition. For £8 million, I personally think that's a great price, especially in this overinflated market for strikers.
Concluding Remarks
Fulham have needed an out and out striker who actually wants to be at the club for a long time now. In Rui Fonte, I believe they have found a committed striker who is going to receive his fair share of chances to score goals. Is there going to be a period of adjustment to the vigour of the Championship? Probably. We don't know. But there are positive signs about Fonte. After all, we know the club doesn't employ the scattergun, disjointed approach to transfers which they did prior to 2016. Let's get behind Fonte and the team for this season.
Note: For a better explanation on Expected Goals, Opta released a video that probably explains it a lot better than I ever will be able to. You can find it here.
As always, I can be found on Twitter @nsmacnee. Thanks for reading!