Ambition Personified: Fulham's Hunt For A Striker
Written by Ben Jarman on 24th June 2017
Remember good ol' Mark Hughes leaving Fulham for QPR and talking about "ambition"? Well in this off-season Fulham seem to be showing their transfer ambition pretty early on.
With that bitter taste of play-off defeat slowly drifting away from our tastebuds, it's time to get stuck in to the transfer silly season and Fulham have come out swinging like Anthony Joshua at Wembley. Three bids have been made for three quality forwards all with major league experience, all coming off the season of their career and all with teams that have made a statement in their division. More importantly, these three players can bring a multitude of different facets to the table.
Steve Mounie
Firstly, the hugely impressive Steve Mounie of Montpellier has been heavily linked over the past few days with many sources claiming that Fulham have made a concrete bid for the 22 year old from Benin. Montpellier haven't been the same since their shock title win a number of years ago but continue to produce talent like Remy Cabella and now Mounie who has had a breakout season as the team from the South of France finished in 15th spot.
14 league goals and 3 assists, as a follow up to an 11 goal loan spell with Nimes the season before, ensured that Mounie took home the plaudits. Montpellier were somewhat lacklustre this season and it's impressive that Mounie profited so heavily from a team that offered so little. As you can see from his spread of goals in the matrix above, he can finish from both feet and is brilliant in the air and so he should be at 6"2. Montpellier produced Olivier Giroud and Mounie is in the same ilk, possessing the same ability to hold up and create play using his size and strength, as 25 key chances created would suggest. Unfortunately for Fulham fans, it looks like newly promoted Huddersfield are leading the race and L'Equipe are reporting it is a done deal for £11.6m.
Diego Rolan
Staying in France, but this time moving to the wine region of Bordeaux, there is a Uruguayan that is certainly growing finer with age, albeit he is 25. Diego Rolan has been with Bordeaux for a number of years but is really starting to find his scoring touch, registering 9 goals this season. Whilst Rolan didn't register an assist last season, and his key chances were recorded at just 18, there is much more to him than meets the eye.
Rolan is vital in the build-up play and is known for pulling himself out wide to use his intelligence in taking on defenders in 1 on 1 duels – he did exactly that before finishing expertly at the near post vs. St Etienne. Being from South America there is a huge amount of flair to Rolan's game and he seems capable of pulling off the unthinkable in some situations as his spectacular bicycle kick in the Coupe de la Ligue would suggest. Rolan is an expressive player, as his 4 take-ons per game would suggest, but also has the strength and size needed to play as a focal point in the 'strikerless' system chosen by Slav last season.
Rui Fonte
Our final destination takes us to one of the most beautiful stadiums in Portugal, the Estadio Municipal de Braga, built on the side of a quarry this amazing ground has only 2 sides, with a rock face at one end. The final target and younger brother of Jose Fonte, Rui Fonte, scored his goals here as Braga marched on to 4th in the Liga Nos. Fonte is a mix of Rolan and Mounie, rather a nice go between with the pair. Although not as physical as Mounie, Fonte has been leading the line for Braga this season, netting a total of 11 goals which should have been more had injuries not hampered him along the way.
His brilliant stats demonstrate the highest chance conversion amongst the three and almost 55% of his shots are on target.  The ex-Arsenal man (maybe pushing it a bit here) is a cute player, especially in the build-up and has that guile needed to make a chance and find a pass. As the matrix below demonstrates he prefers the bottom left and one of his defining factors is being able to finish across the goalkeeper. Fonte's stock in Portugal has risen year on year, whilst uncapped he could eventually break in to the national team later in life like his brother should his development carry on.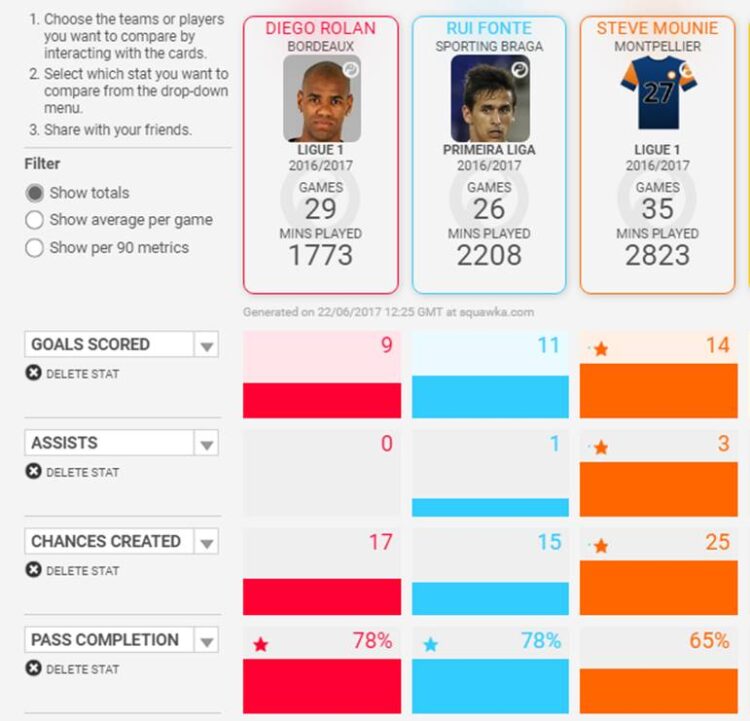 Three big statements of ambition from Fulham here, and whilst all three have slightly different defining factors, what is clear is that all can contribute to the build-up, have an eye for goal and have the certain 'je ne sais quoi' that all good strikers need. Well maybe two of them, at least.