#NoGutsNoGlory – Fulhamish On The BBC
Written by Jack J Collins on 17th February 2017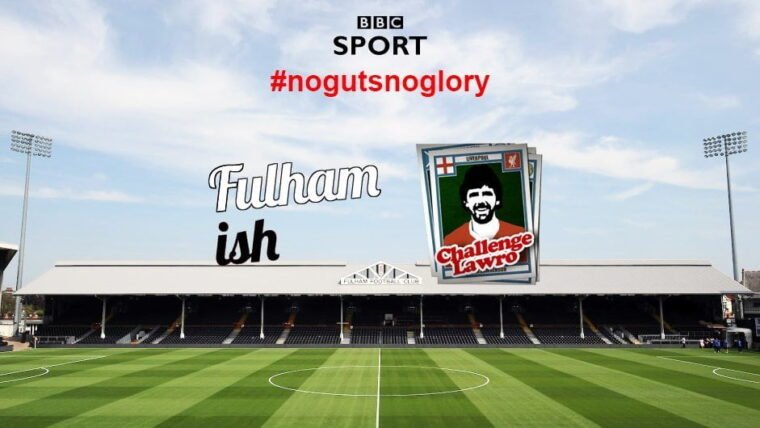 As many of you will know from our big reveal on the Podcast last week, we were asked to participate in BBC Sport's 2017 'No Guts, No Glory' campaign surrounding the FA Cup, and you can now see our videos on the BBC Sport website.
The campaign is two pronged. One part of it invites a host of different guests to take part in making predictions across the tournament, playing against former Liverpool man Mark 'Lawro' Lawrenson, whilst the other attempts to showcase some of the best moments that fans have experienced across the course of FA Cup history.
So, Sammy, Ben and myself went down to the freezing Cottage on Friday 10th February to record our predictions and our favourite FA Cup moment. We plumped for the crazy 3-3 replay against Wolves in the snow at Molineux, which we eventually won on penalties to earn an away tie at Sunderland in the next round.
You can see the full article here.
https://www.instagram.com/p/BQmuABclQth/
As a child, I'd been a voracious player of the BBC's online 'Challenge Lawro' game, which has sadly been discontinued, but Mark Lawrenson is still making his predictions week-by-week and taking on celebrities. (You can play him at home, but it takes ages doing maths, so it's not quite the same.) For any of you that remember, the header used to look like this…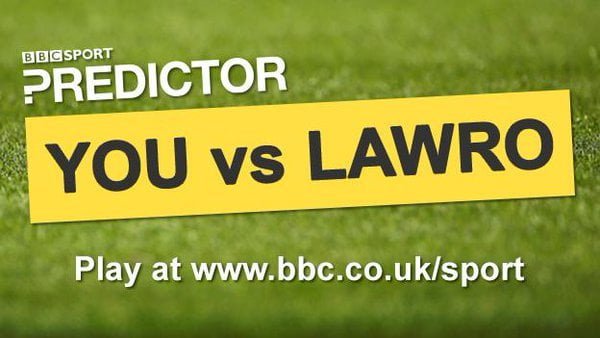 As such, to be asked to challenge the man himself for this week's FA Cup fixtures was a dream come true, and you can have a look at the table of predictions below. As you can see, we've also been pitted against Robbie of the now infamous ArsenalFanTV, so we'll be hoping that whilst we take down top-flight opposition, that Fulham will do the same.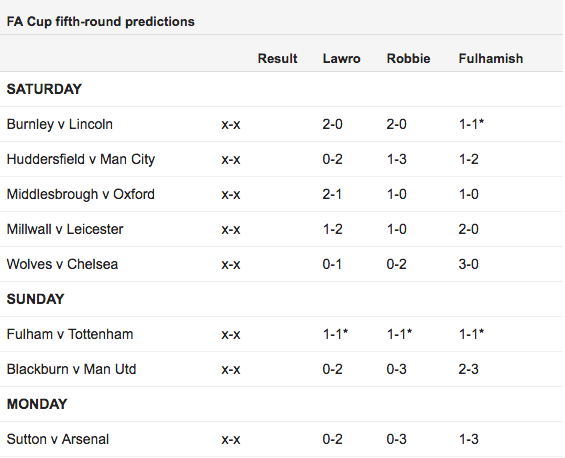 We'll be sure to let you know how things pan out on next Monday's podcast. If you're not already subscribed to the podcast, you can find us on iTunes, Audioboom, Pocket Casts or Overcast.
And make sure you don't miss anything Fulhamish-related by following us on Twitter, Facebook and Instagram.
If there's anything else, feel free to drop us a line at fulhamishpod@gmail.com.